About me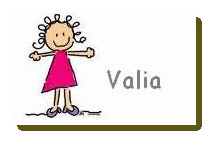 My name is Valia Mitsou. Since September 2019 I am a maîtresse de conférences (assistant professor) at Université de Paris and the IRIF laboratory, where I am part of the team Theory and Algorithmics of graphs.
Before that, I held postdoc positions:
I got my Ph.D. in September 2014 from the Graduate Center of the City University of New York, supervised by Dr. Amotz Bar-Noy.
During the academic year 2013-2014, I was also a visiting researcher at the Research Institute for Mathematical Sciences of Kyoto University, hosted by Dr. Kazuhisa Makino.
---
Contact
E-mail address:


Office: 4029a.
Address: Bâtiment Sophie Germain, 8 place Aurélie Nemours, 75013, Paris France.
Telephone: +33 1 57 27 92 36.